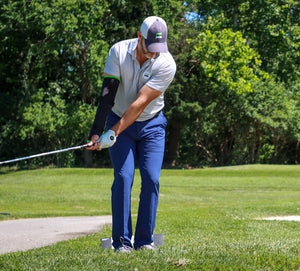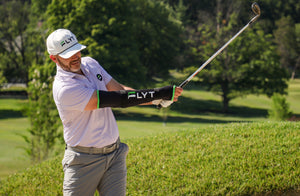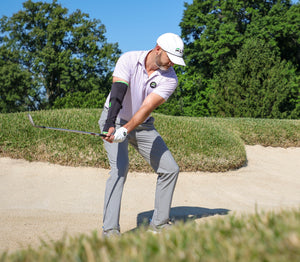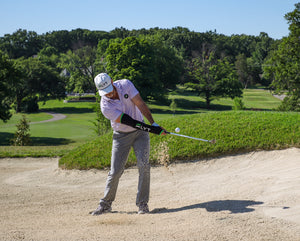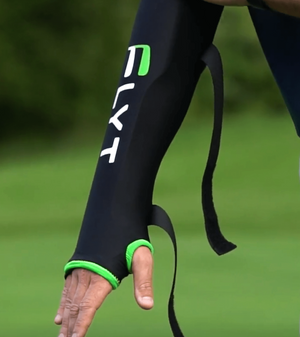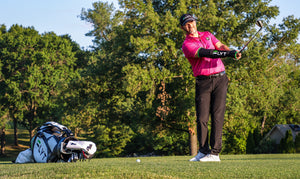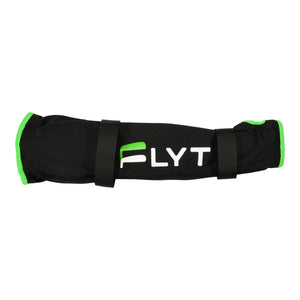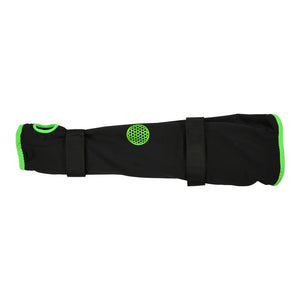 Can't seem to get my right shoulder to continue to turn past contact to finish. Sleeve not helping that. Any advice?
Get structure in your short game
The Flyt chipping sleeve provides players with structure in the trail arm to create a wide body driven chipping motion. Using your bigger muscle groups to create a small motion is how you learn to repeat the motion under any circumstances. Great product for players looking to be more consistent around the greens.
Sebastian M.
I own a junior golf academy and have a lot of training aids. We got both the right and left sleeves and love using them with students. We use it for chip shots and full swings.
Sometimes students put both on at the same time, which helps them create a big turn in the backswing. Instead of a swing with only their arms.
Multiple students come in during their practice time and practice a lot of wedge shots with them.
Great training aid for daily use. Simple to understand and feel changes in motion.
It works and stops the flip
If you're not at least trying FLYT...
Then you're not trying to get better.
Wanna make chipping like really super simple, easy, with about 10" of forgiveness? Which also leads to the best short game of your life? Be dumber if you don't try the FLYT sleeve; you're the unhelpteachcoachable part of the population that thinks a training aid is a crutch. This sleeve is an invaluable tool to lower scores.
How To Wear Your Chipping Sleeve Correctly:
Pull Chipping Sleeve on to arm (Right arm for right-handers and left arm for left-handers).
Fingers should protrude from openings at the bottom.
Top of Chipping Sleeve should be halfway up bicep with top velcro strap just below the elbow, bottom velcro strap just above the wrist.
Align insert on the back of hand approximately one inch up from knuckles.
Insert should run from the back of the hand up outside of the forearm between the inner and outer elbow.
Fasten Velcro straps to hold the insert in place.
Elevate Your Game.
"The FLYT Sleeve is fantastic. My pitching has improved a ton. I have saved 4-5 shots a round inside 40 yards since using it. My first round after practicing with it I pitched in for eagle on the first hole from 35 yards!"

Pete M
"My first round after using the FLYT Sleeve I had 11 chip and pitch shots. Old me would've up and downed 3 of those. The new me thanks to the FLYT Sleeve hit nine inside 8ft, three of which were gimmes and I made most of the others. MASSIVE improvement! FLYT is the real deal!"

Garrett C
"I have been using the FLYT Sleeve for a number of weeks now and the difference has been incredible! I am routinely chipping and pitching the ball inside 8 feet, giving myself so many more opportunities to shoot lower scores! I am excited for other people to start using the FLYT Sleeve, not to mention the hats and gloves are awesome!"

Richard S